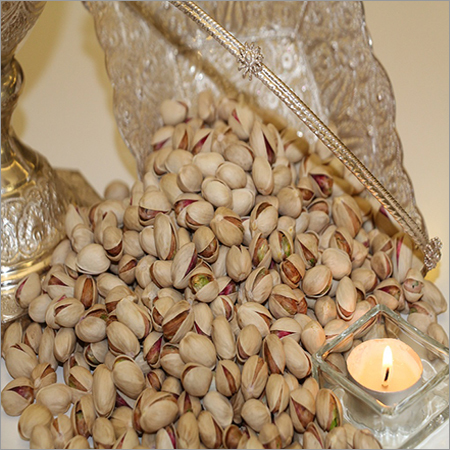 Round Pistachio Nuts
Product Code : 23
Product Description
Being a quality conscious enterprise in this field, we are betrothed in offering the best quality Pistachio Nuts. These nuts are widely used in numerous recipes like frozen milk (kulfi), cookies, cakes, burfi and other sweets to add a unique flavor. The provided nuts are grown by agro experts using quality-examined seeds under the most suitable environment. These Pistachio Nuts can be availed from us at industry leading prices in various packaging options.

Key Points:

Optimum freshness
Pleasing taste
Extended shelf life
Free from harmful chemicals
Hygienically processed using automated machinery
Excellent purity level & taste
Superior shelf life
Benefits:
These have antioxidants like Vit. C & E that protect skin against UV radiation damages
These nuts are rich in monounsaturated fatty acid that is beneficial for high blood pressure
Contain carotenoids that improve eye vision and prevent cataract & macular degeneration
Further Details:
We deal in high quality Pistachios Nuts that are packed with numerous health benefits. We process them using high quality ingredients, which retains the richness of iron, fiber, proteins and essential fats found in these nuts. These delicious nuts can be eaten raw as well as used in preparing delectable cuisines of your choice. Processed as per international standards, these Pistachios Nuts can be availed in a wide array of tamper-proof packaging materials.

An Introduction About Pistachio:
The pistachio belongs to the cashew family, and is indigenous to the deserts of West India and Asia Minor. According to the traditional knowledge of the Middle East, it is said that adolescent lovers who use to meet under pistachio trees and hear the sound of nuts cracking on a full moon night will finally marry one day. Queen Sheba used to like pistachios to the extent that she decreed that the yearly harvest in her realm would belong exclusively to the royal palace. In the 20th Century, hate and convulsion in the Middle East assisted to boost the production of pistachio in California.
What is Pistachio?
It is the fruit of the tree named as Pistacchio vera. It is a yellow-green colored nut that is found inside a hard, by nature beiged colored cuticle. Some shells of these edible nuts are reddened (with vegetable dye), while different others have been ashen until white.
Pistachios aren't really nuts. Pistachio 'nuts' are the seeds of yellow or red plum-like fruits whose pulp is separated during processing. Nevertheless, everyone name them a nut as they look like 'nuts' and come from the family of cashew. Some other things of the cashew family include mangoes, sumac and poison ivy.
Pistachio nuts have a dainty, subtle flavor, which is fantastic either for eating in hand or for flavoring the savory dishes and sweets.
Nutritional Aspect of Pistachio
The hundred gm of raw pistachios gives a whopping of 557 calories. Almost two-third of the Calories is from fat, the fifth comes from carbohydrate and just the tenth part is from protein. Almost 90 per cent of the fat complacent is polyunsaturated and monounsaturated fat, that, in small quantities, is great for the heart as well as blood vessels. Generally, the pistachio has low content of sodium and cholesterol. The protein is loaded in numerous essential amino acids, which the body cannot make on its own and must receive in the diet.
The nut stands as a great source of thiamine, calcium, potassium, Vitamin B6, Vitamin A, folate, zinc, iron, magnesium, selenium and copper. In fact, pistachios incorporate more copper and magnesium than milk, potatoes or bread. These are rich in phytosterols, which reduce blood cholesterol levels and have the power to prevent cancer. They are also enriched with dietary fibres: in fact, an ounce of nuts comprises more fibers than half cup of spinach.
The tree gum is utilized to make blood-clotting agents as well as to treat periodontal ills. In folk medication, the pistachio is a remedy for liver as well as different other abdominal complaints such as chronic cough, sores, abscesses and vascular inadequacy. Pistachio leaves are the fertility medicate in the folk medication of Lebanon, and, in some of Arabia, the nuts are considered to have aphrodisiac properties.
Some Interesting Facts About Pistachios
Pistachios are biblical as these are mentioned in the Old Testament in Genesis 43:11, and are one of only two nuts referenced in Scripture. The other nut referenced is the almond.
According to Moslem story, the pistachio nut was one of the nutrients brought to World by Adam.
Pistachios are royal, as the fable goes, the Queen of Sheba made an authoritative declaration in which pistachios were the exclusive royal food. In point of fact, she even toured so far as to forbid commoners from growing the nuts for their own intake.
Nebuchadnezzar, the old king of Babylon, also had a liking for pistachios and he had panted pistachio trees in his hanging gardens.
The Mogul Emperor, Akbar hosted munificent feasts befitting his royal position. He frequently served chicken at these dinners, and ordered all the chickens to be fed these pistachio nuts for 6 to 8 weeks continually so as to advance the chickens with a more luscious flavor.
Pistachios are known as "the happy nuts" in China and "the smiling nuts" in Iran. People in the Middle East erstwhile advert to the pistachio as the "smiling pistachio." In those identical countries, if you are seated under a Pistachio tree and you hear the sound of shells that are snapping open, it is accepted as a symbol of good luck.
Contact Us
Alley No. 52, Km 4 Zangi Abad Road, Kerman, Kerman, Iran