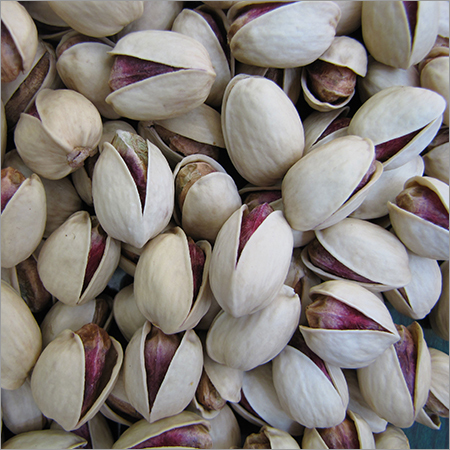 Product Description
With rich experience of two decades in this domain, we are instrumental in offering the best quality Organic Pistachio. This pistachio is grown by diligent agro experts using organic fertilizers under the utmost suitable conditions. The provided pistachio is globally demanded for the preparation of ice-creams, cakes, cookies and other several confectionery products. The offered Organic Pistachio is available with us in diverse packaging options at pocket friendly prices.

Features:

Natural taste
Purity
Extended shelf life
Safe to consume
Further Details:
Whether in shell or salted to taste, Organic Pistachio is a type of Pistachio that is unbeatable in terms of taste. These nuts being delicious in taste can serve as an excellent addition to your snacks, baked dishes and desserts. These Organic Pistachio have abundant content of antioxidants, protein, B-complex vitamins, dietary fiber, and therefore aids in maintaining proper dietary health and wellness. They are also a good option for people who are health conscious and want to indulge in the taste of pistachios without piling on calories or making their cholesterol levels go for a toss.
Health advantages of Organic Pistachio
Pistachios are delightful tree nuts accepted for their wholesome nutritional qualities. Together with almonds, walnuts and cashew, they provide great sources of fats, protein and minerals to inhabitants who live around dry and waterless regions of West, Central and South Asia.

The organic Pistachios are the rich sources of energy; 100 g of the products contain 557 calories. Additionally, they are made of proper quantities of monounsaturated fatty acids such as antioxidants and oleic acid. Regular intake of pistachios in the diet may assist in reducing total and bad LDL-cholesterol and boost the levels of good HDL-cholesterol in the blood. Research surveys imply that the Mediterranean diet that is rich in dietary fiber, unsaturated fatty acids, and antioxidants can aid in reducing coronary artery disease as well as stroke endangerment by favoring healthy blood lipid profile.

Pista kernels are the rich sources of numerous antioxidant phytochemical substances such as vitamin-E, carotenes and polyphenolic antioxidant compounds. Research surveys suggest that these compounds may assist in removing toxic free-radicals from the human body, and thus give protection from cancers, diseases and infections.
Organic Pistachios are superb sources of vitamin-E; particularly rich in γ-tocopherol; constitute about 23 g in every 100 g. Vitamin-E is a powerful lipid-soluble antioxidant, which is essential for keeping the integrity of skin and mucosa. Also, vitamin-E acts as scavengers of noxious free-oxygen radicals.

The nuts are occupied with numerous important B-complex groups of vitamins such as niacin, thiamin, riboflavin, pantothenic acid, folates and vitamin B-6.

They are the vault of minerals such as copper, iron, magnesium, manganese, potassium, selenium, calcium and zinc. 100 g nuts give 144% of daily suggested copper levels. Copper is an indispensable trace mineral, which is needed in metabolism, neurotransmission and red blood cell (RBC) production.

Pistachio oil excerpted from kernels is one of the healthiest cookery oils that has a pleasurable nutty aroma and has superior demulcent properties. It helps in keeping the skin well secured from dryness. In any case it has been utilized in the kitchen, it is also used as "carrier or base oil" in aromatherapy, traditional medications of massage therapy as well as in the cosmetic and pharmaceutical industries.

Contact Us
Alley No. 52, Km 4 Zangi Abad Road, Kerman, Kerman, Iran