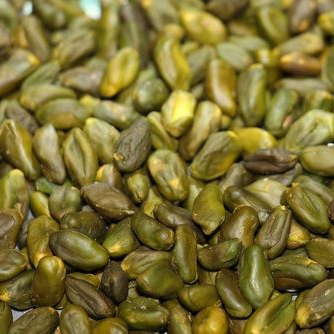 Product Description
Green Peeled Pistachio are not ripe but the immature kernels that contain abundant chlorophyll pigments. This gives them the characteristic green color. Whether for preparing luscious chocolates & pastries or for dressing healthy western style salads, there Green Peeled Pistachio have a wide fan following in the culinary world for its rich taste and immense health benefits. We make this product available for our buyers in a wide choice of attractive packaging options.
Further Details:
The Green Peeled Pistachio have beautiful bright green color and a typical sweet, kernel taste, which are perfect for spattering over savory or sweet Middle Eastern dishes. The nibbed kernels are peeled into portions measuring around 2x10mm – just bigger than the rice grain – making them perfect for stirring via rice salads to add bits of taste, color and texture. The Green Kernals are also suitable for sweets –spread over sweetish rice puddings, or mixed through ice creams for chunks of real kernal.

The taste of these products are pleasant, pronounced, characteristic and the fragrance is typical and evident. The color these have are the shades of intense and sharp green. in addition to these peculiar characteristics these also incorporate nutritional value. Due to their content, these may be considered a source of absolute nourishment as well as the great source of polyunsaturated fatty acids (Omega 3, Omega 6), which cut down the endangerment of cardiovascular disease and include antioxidant properties.

Peeled pistachio is utilized primarily in the sausage-making industry, in specific in Bologna sausage (Mortadella) stuffing.
These have a unique flavor and can be used with comfort, thats why these have countless other usages in cuisine and confectionery (cakes, desserts, first and second courses, etc).

Types of Kernel:

These kinds of pistachio/green kernel are normally made through harvesting pistachios when they are in the raw condition (Kaal) that means before the pistachios become entirely ripe. These kinds of pistachio kernels are usually more costly than other kinds of pistachios, due to the high-priced process. Firstly pistachios become dry in the sun rays for few days then hard-shelled. Second step is to drench the kernels into boiled water so as to withdraw the softened seed skin. As the color of kernels are greenish, the cost of pistachios kernels are high too. Iranian Green Peeled Pistachio Kernels are famed as luxury food ingredients, which are utilized in assorted industries such as: chocolate, ice cream, pastries, sausages and ham.

Kaal (Raw) Kernels are acquired from trees when the pistachios are still not riped and not ranged to the standardized level of maturity, this is the ground for being green. These kinds of Iranian pistachio kernels are commonly gained between the moths of July and August. This variety can be graded depending on the percent of raw color, which are distinguished as green, hence if these are entirely raw with reduced percentage of red kernels these pass a good quality.

Green Peeled kernels are known as the most premium and expensive among all types of kernels. Green peeled kernels come from Kaal (Raw) kernels. Green Peeled kernels can be categorized into 4-5 types, which can be specialized from the proportion of green color in them for example green,, dark green, greenish, yellow or light yellow.


Contact Us
Alley No. 52, Km 4 Zangi Abad Road, Kerman, Kerman, Iran